[ TURN UP ]
Environmental Info

Driver & Utilities
Logos 902
Professional printing calculator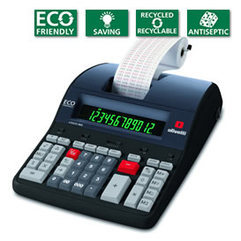 The Olivetti ECO FRIENDLY range of professional calculators contain no toxic substances and are made from recycled and easily recyclable materials. The Logos 902 display shows calculations in two colours and in bright, extremely clear and easy to read in all lighting conditions.



12-digit back-lit LCD display

saving function

fast, two-colour printer

made with recycled and recyclable plastic


back-lit display with 12 large digits

automatic switch-off of the display after 3 minutes of inactivity, keeping calculation in memory
4 basic operations plus advanced calculation functions

antiseptic keyboard to prevent the spread of bacteria and micro-organisms

ergonomic and compact design.
All models deliver quality, reliability, greater energy efficiency and saving.
Product performances are referred to an appropriate use under optimal conditions. With the right to change technical specifications.