[ TURN UP ]
PR2 Plus
Specialised printer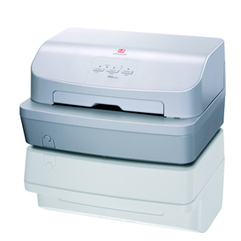 Olivetti PR2 PLUS has been designed in different models from the entry-level version to the dual-side scanner model in order to satisfy multifunctional front-office applications. It is capable to print on all Bank forms from single-sheet and multiple-copy documents to passbooks.



one of the smallest and quietest models in its product class

superior printing speeds

management of all bank forms

magnetic-stripe reading and writing

single-side scanner or dual-side scanner configuration

dual-side colour scanning

ultra-fast alignment


extremely easy to use

up to 560 character/sec in VHSD

magnetic-stripe reading and writing, micr codeline reading (CMC7 / E13B)

can be configured as a single-side scanner or as a dual-side scanner for simultaneous front/back scanning on A4 formats up to 600 dpi

colour casing available in black or grey

new ink ribbon of up to 10 million characters

The Olivetti passbook printers PR2 PLUS offer complete solutions in bank teller environments.
Product performances are referred to an appropriate use under optimal conditions. With the right to change technical specifications.